Just Knitting has moved to a web based retail store. The last day to shop in-store was December 15th 2012.
We wish to thank everyone who has supported Just Knitting (and The Ashton Store before that). It gave us the opportunity to meet many new people and make new friends.  We look forward to continuing to serve you through this web site. Please check back to see the site grow to reflect the new look of Just Knitting.
Happy Knitting – Kelly & Robin
Click on the picture below to explore what Just Knitting has to offer.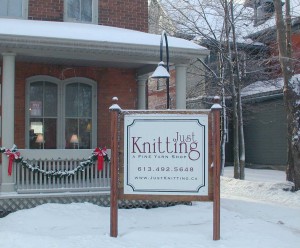 Kelly has been involved in crafting one thing or another since she was a young girl.  Her first introduction to spinning came at the age of 12, and her first attempt at knitting was during a high school home economics class.  Several years later, while expecting her first child, Kelly picked up the needles once more and hasn't put them down since. 
  After several years of operating a general store ( which sold yarn and knitting supplies ), the leap to make Just Knitting a stand alone yarn store is the fulfillment of Kelly's wish to provide a space that offers customers a comfortable and cozy atmosphere to shop for wonderful yarns, notions, patterns, spinning supplies, books and accessories.
  Kelly's passion for natural fibres, from laceweight and up, will continue to be the store's primary focus, as well as yarn from Canada's very talented independent dyers.