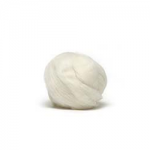 Fine White Shetland – This British combed top is super soft and easy to spin. The micron count is 25/26 and the staple length is approx 85 – 90mm.  225gr.1/2 lb. bag
Our Price: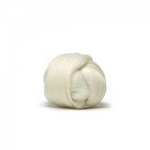 Blue Faced Leicester Top – This is a white top that is very lustrous and soft. It is beautiful with a long 5 inch staple length, definitely worth trying!
Blue Faced Leicester is a longer stapled wool (the individual fibers are longer) which is fine enough for next-to-skin wear and very hard to felt. It is considered very easy to spin, and is easy to dye with acid dyes (including food coloring and drink mix). It is extremely popular for fine to medium yarns for anything from lace to socks to light sweaters, and insulates and wears well enough for outerwear too. An excellent choice for early spinners and spinners progressing to more intermediate and advanced levels, BFL is one of the most popular spinning fibers around today.  Micron count between 25-27.  225gr/1/2 lb bag.
Our Price: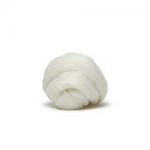 White Merino Top – A wonderfully soft, 22 micron fine wool, Merino is terrific for any next-to-skin garment. It takes dye beautifully and can be spun anywhere from thick and lofty to extremely fine for fabulous lace, and dyes beautifully with acid dyes (including food coloring and drink mix).  Finer and more sensitive than the medium wools, our Merino is easier to felt and retains its incredible softness in felted objects, but can be trickier to dye before spinning. This merino top is so soft, it can also be used for baby's garments.  225gr/1/2lb bag
Our Price: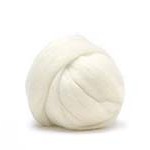 Wool/Mohair Blended Top – A new blended top consisting of 82% wool and 18% mohair. Micron count is 31/32 for the Mohair and 23 for the Wool.  225gr/1/2lb bag
Our Price:  
Corriedale Top – Corriedale Top is a great fiber for felting and spinning with a 28 micron count.
Corriedale, a medium wool, is widely regarded as one of the best general-purpose wool fibers there is. Often chosen by spinning teachers as an introductory fiber, Corriedale drafts easily and can be spun for almost any purpose. Great for hats, mittens, sweaters, many people find it to be next-to-skin soft. The combed preparation of this fiber makes it ideal for spinning smooth, even yarns, but its versatile nature gives the spinner almost unlimited options. With a thicker and denser preparation than Northern Lights, Corriedale top is also wonderful for felting, and is easy to dye with acid dyes (including food coloring and drink mix).  Spin it by tearing off chunks and drafting, or tearing it lengthwise into strips before spinning.  225g/1/2 lb. bag.
Our Price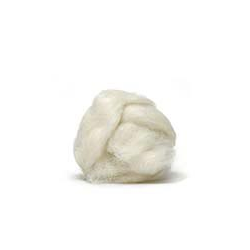 Finn Top – Our Finn top will remind you of a soft Merino, but it is easier to spin due to the staple length. The micron count of this Finn is 24-25 and the staple length measures between 75 – 80mm.  225g/1/2 lb. bag.
Our Price – $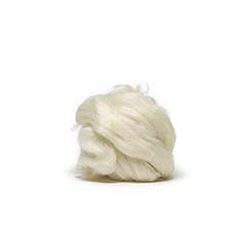 Wensleydale Lustre Top – A very long fiber combed into a shiny top. It is one of the British wool breeds. Our Supply is a 34 micron fiber.  225g/1/2 lb. bag.
Our Price – $
Blue Faced Leicester/Silk 80/20 Blended Top – A new blend of supersoft Blue Faced Leicester (80%) and Tussah Silk (20%).  225g/1/2 lb. bag.
Our Price –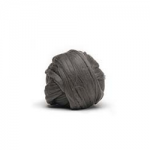 Black Diamond (100% carbonized rayon from bamboo) – According to the American Chemical Society, in 1879, Thomas Edison invented the first incandescent light bulb. It used electricity to heat a thin strip of material, called a filament, until it glowed. Edison may also have created the first commercial carbon fiber. Early filaments were made from bamboo slivers which were formed into the proper size and shape then baked at high temperatures. Since bamboo consists mostly of cellulose, a natural linear polymer made of repeating units of glucose, the filament was "carbonized," when heated. It became a true carbon copy of the starting material – an all-carbon fiber with the same exact shape. Tungsten wire soon displaced these carbon filaments, but they were still used on U.S. Navy ships as late as 1960 because they withstood ship vibrations better than tungsten.
This carbon fiber, called Black Gold or Black Diamond by those in the industry, is a rich grey with a matte finish but a deep luster. This extremely fine fiber produces a stunning, unique and instantly recognizable yarn. A delight to spin, Black Diamond is one of the newest fibers on the hand spinning market, sure to be a show-stopper and conversation piece. Very fine and soft with some elasticity, Black Diamond is an exciting fiber everyone wants to try — and they'll be back for more!
Our Price:  
SWTC Karaoke (50% wool/50% soysilk)
SOYSILK FIBER FACTS:
What is SOYSILK fiber?
SOYSILK brand fiber is made from the residue of soybeans from tofu manufacturing. This process is 100-percent natural and free of any petrochemicals, making it an extremely environmentally friendly product. Soy is a completely renewable resource – coming from the earth and being wholly biodegradable. As early as the 1940s, textile experts dreamed of a fiber made from soy. (In fact, Henry Ford had a suit made of soy as an early prototype.) SOYSILK brand fiber offers superior moisture absorption and ventilation properties along with beautiful draping, softness and warmth.
What are the benefits of SOYSILK brand fiber and how does it differ from other fabrics?
SOYSILK brand fiber has the softness and smoothness of cashmere but isn't hazardous to the environment.  SOYSILK brand fiber is beautiful to look at and has excellent wearability.  SOYSILK brand fiber has the same moisture absorption as cotton but with better moisture transmission, making it more comfortable and sanitary.
How is SOYSILK brand fiber manufactured?
SOYSILK brand fiber is manufactured using new, cutting edge bioengineering technologies. It is produced by extracting proteins from the residual oils of soybean cake – a liquid "batter" is created and cooked, then the fiber is produced by wet-spinning and stabilized by acetylating, and is then cut into short staples after curling and thermoforming.
What is the washability of SOYSILK brand fiber?
SOYSILK? brand fiber can be washed in home washing machines and air dried. It is not recommended for commercial/industrial washing machines. In textiles, SOYSILK fabrics are known to be wrinkle-free and have little to no shrinkage.
How does SOYSILK brand fiber affect the environment?
SOYSILK brand fibers are part of the new class of green textiles. Soy fibers provide the environment with a unique "cradle-to-cradle" approach – coming from the earth and being wholly biodegradable. SOYSILK brand fibers contain no petroleum and all products are manufactured to be eco-friendly. In addition, the United States is currently the largest exporter of soybeans in the world.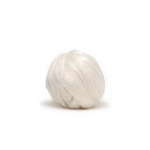 Karaoke White
Our Price: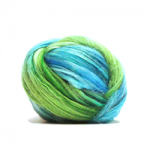 Karaoke Angelfish
Our Price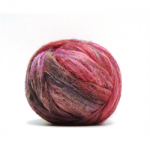 Karaoke Black Beta
Our Price: